Your Brand Needs An Identity
Win more customers with a distinct, professional look that separates you from your competition
What is a visual brand identity?
Visual brand identity is the collection of design elements that communicate your values and personality to your customers through imagery and design style.
At the very least it should consist of a professionally designed logo. Ideally, you would also have a set color palette, fonts, and overall theme/style. And all of that should be consistent across your social media profiles and posts, website, ad campaigns, print materials, and anywhere else potential customers are exposed to your brand.
Your brand needs a visual identity
A consistent visual identity that looks amazing and sets you apart from your competitors is crucial for your brand. Your prospective customers need to see you as an established professional. They need to quickly get a sense of your brand's personality through visual design. The right visual branding gives you a strategic advantage over your competitors so that potential customers pick you instead of them.
Why Intelliweb for your brand's visual identity?
Custom Designs
All items are professionally designed. Each one is 100% unique and custom. We never use templates or clipart.
Quick Delivery
We usually deliver initial design concepts in 3 business days. Typical turnaround time on revisions and final versions is 2 business days.
The Right Files
Get the final version of your designs in the file formats you need. We provide most common formats by default. If you need something different, just ask!
Copyright Ownership
You get full copyright ownership of your final logo. We'll even give you a version fo the logo suitable for registering a trademark.
Satisfaction Guarantee
Every design includes unlimited revisions until you're happy. If you're still not satisfied and we can't make it right, we'll give you your money back.
Affordable Upfront Pricing
Reasonable flat-rate prices with clearly defined deliverables set expectations upfront. No accumulating hourly rates, no surprise fees.
Logo
Custom business logo
$499
5 initial logo design concepts

Unlimited revisions until you're satisfied
Complete Branding
Logo + business card + social media
$999
5 initial logo design concepts

3 initial business card design concepts

3 initial Facebook & Twitter design concepts

Facebook & Twitter page setup

Unlimited revisions until you're satisfied
Other graphic design options such as brochures, flyers, etc. are also available. Contact us for details.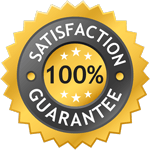 Risk-free satisfaction guarantee!
If you're not completely satisfied with your order, we'll make it right. If you're still not happy, we'll give you a refund.
How does the process work?
First, we get some basic info from you, such as your target customer, brand colors, and your likes and dislikes.
Then, we use that to create multiple unique concepts. Think of a concept as an initial direction for the design from which we can work from.
You choose the design you like the most and give us some feedback on any changes you would like to see made, such as colors, fonts, layout, etc. These changes are called revisions.
We continue the revision process until it's perfect and you are completely satisfied.
You get the final version in whatever formats you need.
What if I don't like any of the initial concepts?
You get unlimited free redraws just in case the first set of designs miss the mark. We want you to love your new logo, so if you don't like any of the initial concepts we will start over with a fresh set.
Can you repair my existing logo?
Yes. We often get asked to repair old logo designs where the client has lost the original files and needs to have a vector format for marketing purposes. If you email us the file you have, we can tell you how much it will cost to repair and how long it will take. You should email the file to [email protected] and explain what you would like us to do. We can also add a modern spin to an old logo to freshen it up for today's market.
What file types will I get my logo in?
You will receive your completed logo in the following file formats: EPS (source vector file), PNG, PNG, JPG, PSD, PDF, TIFF
Other file types are available upon request, if possible.
Can I edit the final files?
Your logo pack includes the fully editable vector master file format EPS (encapsulated post script) that all the other file formats are created from. This format is for use with Adobe Illustrator version 10 or higher. This is the industry standard vector drawing tool software most in use by professional printers and professional designers.
The only editing restriction is that the font is flattened because of font licensing issues. Fonts are like software and often come with a commercial license. We will inform you of any fonts used in the design and you are free to buy them from any good online font store or download them for free if available.
Do you do print business cards, etc?
We do not do any printing but we're happy to assist you in getting your graphics printed. We can recommend printers and help you order your print materials.
I have a question that is not answered here, how can I get an answer?
Head over to our contact page and type your question into the form and hit submit. We will get back to you with an answer within 1 business day.